'Valerie' by Pierre Mayer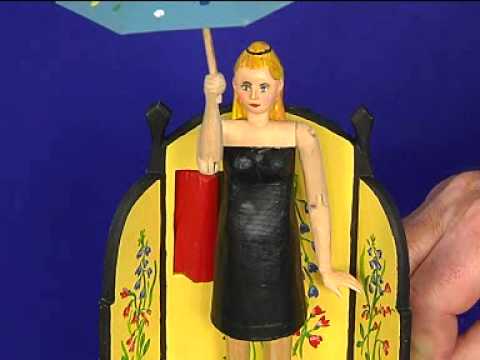 The Valerie Automaton
Valerie is a talented and well known magic performer mostly
because of her quick costume change act.
She won many international awards and lectures all over the world from Japan to the United States not to mention Europe of course.
She is a close friend and the reason I tell all this is because she was my inspiration for the automata.
After attending one of her lectures I realized all the possibilities that magnets could accomplish.
In this Valerie automaton the change of dress occurs when the magnet hidden behind the screen rotates .
The first time you might not notice that the dress hanging on the screen also changed colors.
Of course it is synchronized with the umbrella that is lowered to hide the trasformation.
A confidential « underground risqué » version was also made.
A dentist mirror allows you also to witness the color change of her underwear.
Once again a small magnet does the work.
The possibilities are endless now that magnets are stronger and smaller .
But it still takes many tries before you find the right one.
There will still be gears, pulls or strings but sometimes it will solve or save you a headache.
Pierre Mayer